"You will always take the complexities of personal care for granted until your perspective has been asked to make a permanent change."
Activities of Daily Living (ADLs) are essential personal care activities that are required to maintain independence, hygiene, physical function, and wellness. An individual's quality of life is directly correlated to their ability to manage their own personal care activities. It is alway  better to seek restorative therapy in order to relearn self-care skills than it is to hire a long-term companion or transition to institution-based care. 
What are some examples of personal care activities?
Activities of Daily Living (ADLs) are also called personal care activities. These activities are essential for independence in your daily life. If you have lived with a chronic or progressive illness, been recently hospitalized, or have faced another traumatic medical event, you might be experiencing difficulty with accomplishing personal care activities. This is completely normal! Performing these activities on a daily basis is exhausting and more complex than many people realize before they have been given an altered perspective! 
Personal care categories or 'activities of daily living' include:
Bathing and showering
Being able to get yourself dressed
Going to the bathroom
Walking and getting up and down from a chair or car
Eating and swallowing
Feeding
Sexual activity
Personal hygiene and grooming
Being able to use and safely operate personal care devices like adaptive equipment, mobility aid, and durable medical equipment
People who see us for personal care training usually have the following obstacles:
Decreased fine motor skills after a joint replacement, hand injury, stroke, or traumatic brain injury 
Generalized Weakness, decreased standing tolerance and joint instability 
Chronic pain 
Decreased range of motion and flexibility in their upper body and/or lower body 
Poor balance and mobility 
Executive function impairments like a decrease in sequencing, attention to task, focus, and information processing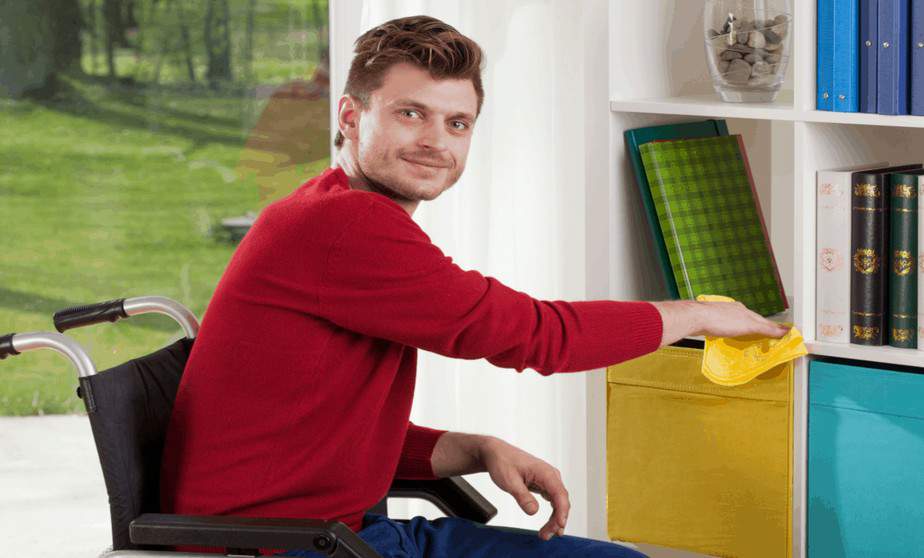 Hand movements and function
Also known as fine motor skills, your rehabilitation therapist addresses the complex intricacies of hand function including coordination, grasp and release, prehension, opposition, range of motion in the wrist and fingers, strength, and general mobility. Hand movement and strength can help with many personal care activities for independence including using utensils when feeding yourself or family members, managing buttons/hooks/zippers, opening doors, driving, opening food packages/bottles, and much more.
Muscles and Bones
Your rehab specialist is well-versed in the upper body and lower body function. We understand how muscles and bones are designed to heal and can, therefore, use our vast knowledge of the human body and it's systems to decrease muscle imbalances and help you become stronger and more flexible so that you can perform essential mobility aspects of activities of daily living (personal care). Some of these functions include reaching for items, carrying groceries, standing for long periods of time, holding a pan/knife during food preparation and much more. 
Increase Endurance and Muscle Stamina 
In order to accomplish any activity, you must be able to have the energy to do it. Regardless of your diagnosis! Whether you are strengthening your facial muscles or your huge hamstrings, quadriceps, and glutes, your muscles' ability to activate for an extended period of time is important for independence. Likewise, your brain and muscles need oxygen in order to feed energy throughout your body which is why your rehab specialist will also focus on the efficiency and strengthening of your heart and lungs! This will prevent early fatigue, muscle injury, and lightheadedness when participating in activities.
Cognition and Safety Awareness
Activities for independence, whether instrumental activities of daily living, personal activities of daily living, or other meaningful activities [occupations]. the ability to think clearly, methodically, and reasonably are critical for safety awareness and your ability to accomplish the task. We take for granted the complex nature of activities for daily function. Each large task is made up of many small tasks that require your body's ability to work synergistically! All of this starts with your brain and your mind! This is why our outpatient rehabilitation approach is based on neurological principles that we call neurocentric rehabilitation
Education of Crucial Elements of Recovery and Rehabilitation
Buffalo Occupational Therapy practitioners are all educators. We believe that one of the secrets to recovery is equipping you with the information we know! It is important to us that you understand the rehabilitation process and all of the options available to you to be independent. Whether is it learning the course of your illness and how it will affect your function in the future, learning the right way to move your body, re-learning strategies of independence like compensations and adaptations, or understanding the importance of energy conservation and diaphragmatic breathing – your rehab specialist wants you to feel the hope that comes from knowledge! mnm 
Therapeutic Exercise and Therapeutic Activity 
In our outpatient rehabilitation studio, we use many different techniques, strategies, tools, exercises, and activities to increase balance, dynamic standing, and joint stability. Some tools and equipment we use are agility ladders, aerobic steppers, tandem walking surfaces, free weights, theraband, bosu balls, manual therapy, modalities, and much more! Doesn't sound like occupational therapy? Read more about our hybrid approach to outpatient rehabilitation!
'Real-Life' Activities or Occupation-based Interventions
Occupation-based interventions are the most functional-based approach to rehabilitation. When you are invested in the activity and understand why you are doing something, your brain's ability to heal and re-learn motor patterns improves exponentially! Occupational therapists are functional rehabilitation specialists which means we are experts in translating physical strategies into functional activities! We understand that performing a sit-to-stand in the studio is much different than getting up from your favorite recliner chair! Likewise, re-learning how to move your arm or walk in the studio is much different than feeling confident entering your home or moving about the community! Buffalo Occupational Therapy always bridges this gap and includes these real-life elements as part of our outpatient rehabilitation process!
Ensure you are given a comprehensive evaluation by your therapist!
It should include objective assessments, a work-up of upper and lower body strength and range of motion, a screen for reaction time and coordination, a cognition screen to ensure your memory has not been affected by decreased mobility, and a conversation or perceptual screen regarding your fear associated with falling.
Commit yourself to at least 6-8 weeks of outpatient therapy after discussing the plan with your therapist.
Improvement takes time! You can't improve without a commitment to a plan. Additionally, many times you must first address physical symptoms such as fine motor skills, standing tolerance, balance, visual perception, walking, muscle imbalances, and strength and flexibility. Completing the hybrid program of therapy offered through Buffalo Occupational Therapy is essential to maximizing your results!
Follow the Home Exercises Program (HEP)
Your therapist will give you a home exercise program including exercises, stretches, and occupation-based activities to promote new motor habits.
Home Assessment
If you live alone and have not had your house assessed, a home assessment is highly recommended. In this home assessment, a therapy practitioner will walk through your home and recommend way to increase safety, accessibility, and decrease potential fallings risks. A home assessment also allows the therapy practitioner to give you information about various pieces of adaptive equipment and durable medical equipment that may increase the liveability of your physical environment!
Ask questions!
Our outpatient rehab program is unique and educational. We want to equip you with the answers you are seeking and will do our best to give you the most current information! Be an active part of your therapy program!
Are you facing a specific diagnosis or condition effecting your functional performance?
Check out some examples of  conditions we treat through outpatient rehabilitation! 
Why choose Buffalo Occupational Therapy?
Buffalo Occupational Therapy works with you one-on-one to create a treatment plan that will meet your needs, accomplish your desired outcomes, and restore your hope in recovery.          
Buffalo Occupational Therapy practitioners are committed to maintaining current competencies, meeting monthly continuing education goals,  and being well-versed in the latest evidence-based, research-driven treatment models in order to offer you the best treatment possible. 
Specialized occupational therapy practitioners are accessible to their patients, invested in producing treatment plans that will produce results, maximize time spent, and offer you hope for recovery. 
Buffalo Occupational Therapy is currently the first and only  Neuro-centered adult outpatient occupational therapy practice specializing in neurological rehabilitation, functional performance, and rehabilitation for older adults.       
Helpful Page Definititions
Instrumental Activities of Daily Living (IADLs)
Instrumental Activities of Daily Living (IADLs) are essential for independence in life roles and required for aging in place. There are 8 activities core activities for independence including cooking, cleaning, communication, taking and managing medication, handling your personal finances, transportation and community mobility, shopping
Cooking - The ability to follow a recipe and having the stamina to prepare a meal for yourself and/or your family
Cleaning -   The ability to perform light housekeeping including making your bed, doing your laundry, washing the dishes, taking out the trash, vacuuming, sweeping, cleaning your bathroom, etc. 
Communication - The ability to use the telephone, the computer, have conversations with people (familiar and strangers), communicate your needs clearly.
Taking medication - The ability to sort and organize your medication or determine a compensatory method to do so as well as taking the appropriate dosage at the appropriate time. 
Personal Finances - The ability to establish an organization method to understand financial responsibilities and pay your bills on time. 
Transportation - Whether you are driving, calling for a driving service like a taxi or Uber, or taking public education. You must have a defined action plan for community mobility and transportation.
Shopping - The ability to plan transportation, plan a grocery/clothing list of needs for yourself and your home, have the stamina to collect your items at the store, and be able to get them into your house. 
Activities of Daily Living
Occupational therapists are trained in occupations and activity analysis. An occupation is an activity that you believe is important to your life. There are many levels of occupations, but activities of daily living (ADLs) are the most personal activities and are usually the ones people find most important if they were to lose the ability to complete them.  
ADLs include:
Bathing and showering
Getting dressed
Going to the bathroom
Walking and getting up and down from a chair or car
Eating and swallowing
Feeding 
Sexual activity 
Personal hygiene and grooming
Being able to use personal care devices like adaptive equipment and durable medical equipment 
Muscle Imbalance
Your body is complex and should be working synergistically with all of its parts. When some muscles have become weaker while others remain strong, an imbalance occurs which causes decrease balance, standing tolerance, and joint stability. 
Visual Perception
We incorporate visual perceptual elements into many treatments to enhance perception, balance, safety, cognition, memory, recall and neural excitation. Some areas of visual perception include form constancy, visual discrimination, figure-ground perception, visual closure, visual memory, and visual sequential memory.
Fine Motor Skills
Fine motor skills are a fancy way of saying functional wrist, hand, and finger movement. Many people require fine motor training after a stroke, traumatic brain injury, hand injury, neuropathy, or throughout the progression of a progressive diagnosis. 
Fine motor skills include open thumb web space, bilateral coordination, thumb IP joint flexion, finger isolation, upper body stabilization, strength, and mobility, dexterity, prehension, intrinsic muscle strength, precision, motoric separation of the two sides of the hand, motor control, pincer grasp, pinch strength, grip strength, and the ability to grasp and release.