Get Started
This course is currently closed
Welcome to the Connect Mentorship Program
If you are just beginning this program, please take time to watch the following video. It will give you an overview of what you will gain from this self-paced mentorship program for occupational therapy and occupational therapist assistant students and practitioners. This is not a course for clinical skills – this is a course professional development and help traversing your full scope of practice. In order to become a respected professional representing the occupational therapy profession, we must use the right language. We must be strong and confident in our content delivery.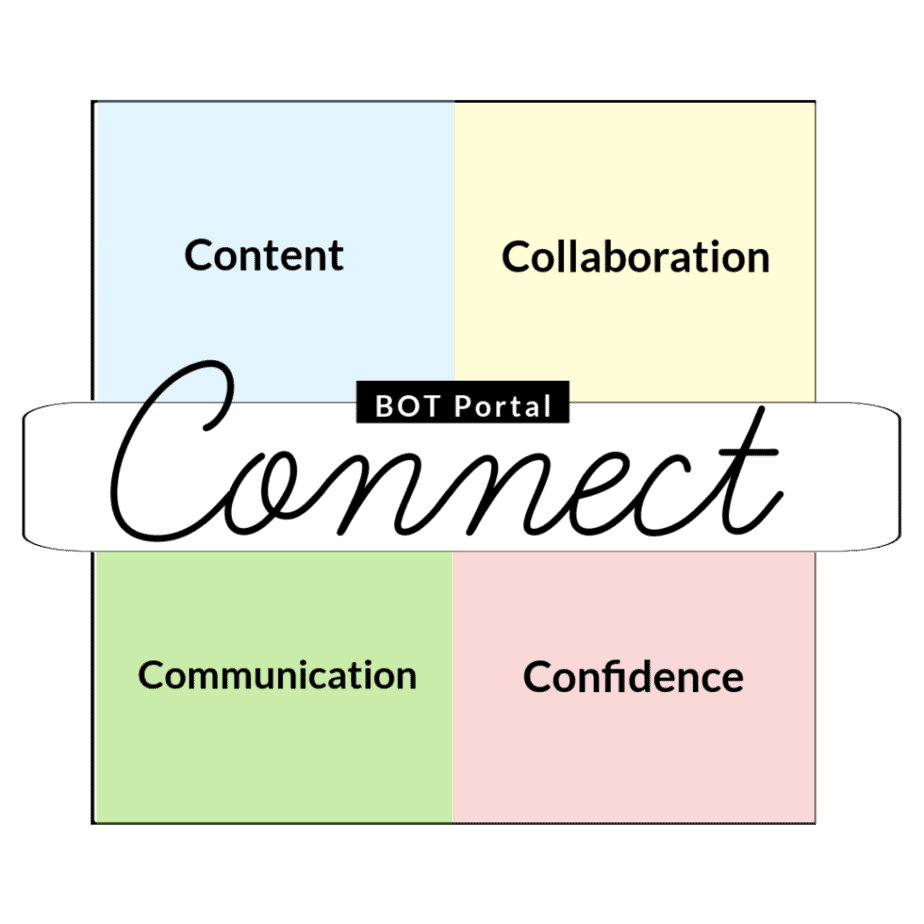 What will you learn in this program?
Content
'Mastering the Content' takes you on a journey through the content housed on the BOT Portal for the purpose of application. Whether you are student or a practitioner, this first unit will walk you through available resources, clinical mindset when applying these resources and give your journal questions to explore as you move through this unit. You can share all of your responses, comments, questions, feedback in your closed community group on Facebook or your Marco Polo "Portal" community: 3-9 students/practitioners with whom to foster a professional network. To understand more about the comprehensive resources you will be accessing, you can become a free member to "look around".
Collaboration
'Collaborate Intraprofessionally' is purposed to build what BOT believes is of paramount importance to succeeding in occupational therapy and improving quality of life as a practitioner whether you are a student or 25 years into the profession. Let's face it, burnout is real! We must depend on each other for support, encouragement, and joint contribution to excellence. That's what this unit will foster! You will have goals that encourage you to (1) Establish Community (2) Ask clinical and education-based questions (3) Answer others questions (4) Share personal experiences through guided prompts.
Communication
'Communicate Clearly and Competently' is a unit that will establish your 'voice' as a practitioner. Have you ever felt nervous to communicate your case? your questions? your treatment plan? your value? You are not alone! There are practitioners all over the world who desire to have a stronger voice in their practice. This is your chance! You will have much opportunity to accomplish these goals in a supported environment while learning how to be a stronger clinician. Some of these opportunities include closed facebook group, Portal groups on Marco Polo, a monthly zoom meeting, weekly Facebook LIVES, and more.
Confidence
'Practice Confidently' will guide you through goals that will bring you to a place of confidence in all elements. of clinical practice. By completing the goals throughout this course, the student and/or practitioner will naturally find themselves in a place of leadership. During this stage you, you will be given opportunities to lead discussion, discuss the potential to mentor others, and work towards discussing how you can use all of the information you learned throughout the year to foster the same skills in others. Most of all, you will be confident in application and advocacy of your full occupational therapy scope of practice.
Tips for Maximum Value:
Be Engaged! Seek out speaking opportunities and be visible.
This course can be completed 'out of order', but it would benefit you to go in order. Even if you are able to practice skills prior to arriving at a given stage, imagine how much more evolved you will be when it counts. Give yourself the opportunity to develop in a continuum so that you, in turn, can teach others.
Ask Questions for the weekly Q & A in the closed facebook group! If you never ask questions, you will never know anything beyond what you know now. Use your resources! Don't forget to joint the Closed Facebook Group.
Stay plugged in to the BOT Events Calendar
Course Stages: