About Buffalo Occupational Therapy
Buffalo Occupational Therapy is the in-house therapy services offered by Aging with Purpose LLC. Buffalo Occupational Therapy is an outpatient based occupational therapy clinic for adults specializing in geriatric occupational therapy, Dementia and Alzheimer's management, alternative pain management, productive aging, and aging in place.
Learn More
Buffalo Occupational Therapy is an entity of Aging with Purpose LLC - CLICK HERE for Aging with Purpose LLC
Buffalo Occupational Therapy is a rehabilitation practice created to help the baby boomer and silent generation remain in their homes throughout the aging process and avoid unnecessary institutionalization within the long term industry. Aging with Purpose created Buffalo Occupational Therapy to promote the maintenance of one's quality of life throughout adulthood despite acquired physical deficits, memory deficits, chronic pain, and ailments.
Independent Senior Living Collaborative
Western New York's premier collaboration between senior apartments and therapy. Occupational therapists work in long term care facilities and nursing homes evaluating and designing programs and interventions to prevent physical and mental declines to maintain all current functions. Early intervention is key!! Occupational therapy is now in the community practicing the same function in order to keep people out of these facilities!
Click Here
Current Credentials and Affiliations 
Registered and NYS Licensed Occupational Therapist (OTR/L)

CARES Dementia Specialist (C.D.S.)
Certified Kinesiology Taping Specialist (CKTS)
NBCOT Certification – Older Adult Designation (2019)
New York Occupational Therapy Association Member and Advocate (2019)
BIO 
 Michelle Eliason established Aging with Purpose LLC (Buffalo Occupational Therapy) in June 2016 with a sole mission to enable individuals to live in the place of their choice throughout adulthood despite disease, cognitive deficits, injury, de-conditioning or other ailments. After working in the medicare insurance sector for 3+ years, Michelle completed her professional education with a focus on geriatrics.  Michelle and cohorts participated in a community-based research study analyzing the effects of physical activity and home mobility on older adults living independently within the community — they later went on to win first place in a NY research-based competition. Post-graduation, Michelle began working as a clinician within the institutionalized long term care setting and later went on to become the Director of Rehab (DOR) of a 100 bed facility. The combination of experience both pre-professional and clinical revealed crucial needs being unaddressed in the community for older adults and adults with neurological deficits. With perpetual re-admissions and endless preventable injuries, Michelle began her journey as a community-based practitioner and senior community consultant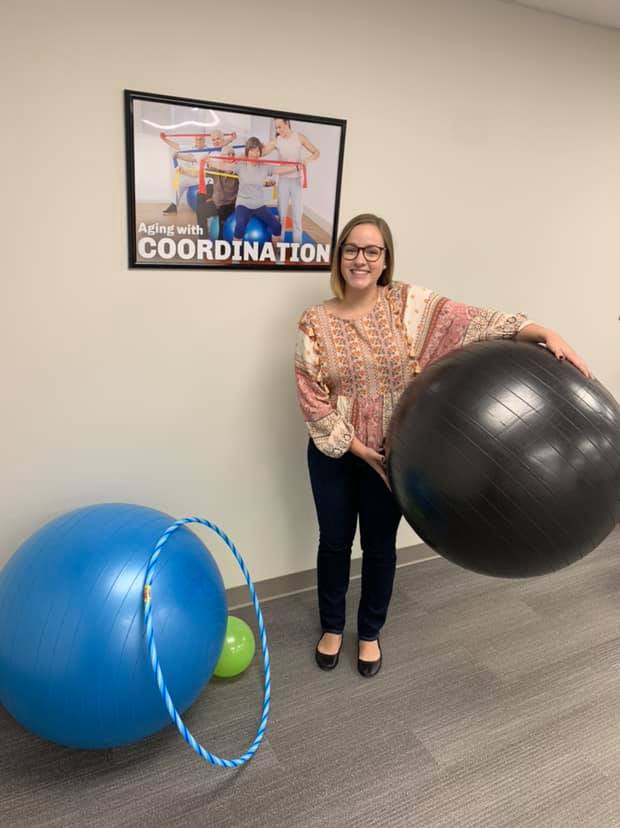 Hannah McDowell, COTA/L
Lead Therapy Assistant
Research interests: Kinesiology, Correcting muscle imbalance, Productive Aging
Current Credentials and Affiliations 
Registered and NYS Licensed Certified Occupational Therapy Assistant (COTA/L)

NBCOT Certification (2019)
New York Occupational Therapy Association Member and Advocate (2019)
American Occupational Therapy Association Member and Advocate (2018)
BIO 
 Hannah graduated in the top of her class at Villa Maria and won the "Outstanding Student" Award. She was the president of the OTA club and led many positive advocacy initiatives for the profession!! Hannah has a heart to serve people and a special interest in working with the geriatric population within a community setting. She enjoys research and investing in professional and personal growth by way of continued competency classes!
Productive Aging Specialists
As its name suggests, an occupational therapist is completely set apart in the healthcare field as a specialist in assessing Activities of Daily Living (ADLs) and Instrumental Activites of Daily Living (IADLs) performing detail-oriented activity analysis, and using extensive knowledge of the human body to create an intervention. 
Read more